Hour of the Wolf is a troubling nightmare of psychological isolation. Johann and Alma, a famous artist and his wife, begin to believe that a group of malevolent spirits are trying to tear their lives apart. Sure, they look like normal people and have lovely personalities, but their behavior and appearances shift during the hour of the wolf. Johann and Alma's only recourse is to stay up until dawn every night.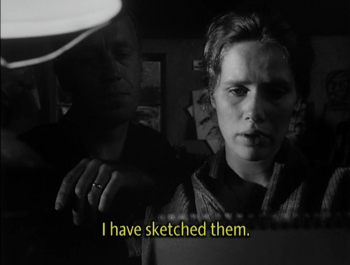 Writer/director Ingmar Bergman does not answer any questions in Hour of the Wolf. He just presents the story in a series of lengthy monologues. Though Johann and Alma clearly care about each other, their only surviving bond is the belief in the spirits on the island.
Bergman rejects action at all costs. A story so grounded in psychology has no need for camera movement and constant edits. The story is told through long, sustained shots focused on a single location. If Alma and Johann are having dinner, the camera will not leave the table until the meal has reached its climax.
Hour of the Wolf is an experiment in storytelling. It's a ghost story with concrete forms and a relationship story with no connection. It's a survival story with no immediate risk and a character study with no variance in behavior. The film is surprisingly compelling for being an exercise in stasis. The story, the characters, and even the world refuse to yield to the passing of time so key to the film.
If you expect a horror story with big scares and identifiable evil, you will be disappointed by Hour of the Wolf. The horror emerges not from action or adversity but the decay of the mind. The story becomes more sinister as Alma and Johann go further into their paranoia. The shocks and suspense build because of what's happening on film, not because of what's happening in the story.
It's an odd distinction to make. Film is a medium used to tell stories. We watch the stories come alive with the understanding that nothing happening is real in a narrative film. Yet, Bergman breaks through this barrier by crafting a story that relies on our recognition of the unusual editing and cinematography to actually bring the expected entertainment factor.
Hour of the Wolf is an odd and unsettling horror that toys with the viewer as much as the characters onscreen. Their immobility is reflected in the movement of the camera and the laborious pace of the film. Engaging with the story requires the viewer to engage with the very notion of film as a medium while refusing to provide any hints as to what is actually happening in the story. It's a dark adventure into the nature of storytelling and the psychological basis of horror.
Rating: 8/10
Have you seen Hour of the Wolf. It's not my favorite Ingmar Bergman film, but it's a very effective one. What about you? Share your thoughts below.