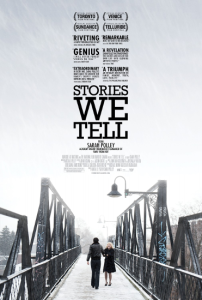 Sarah Polley uses a deeply personal story–the rumors surrounding her own lineage and conception–to explore how people choose to frame the narratives of their lives. Stories We Tell looks at different layers of connection to the parenthood rumors. It starts with Polley, the child at the center of the story. Then it jumps to her immediate family–father, brothers, and sister. Then it extends to her mother's coworkers, friends, and acquaintances at the time of Sarah's birth. The film quickly shifts focus spinning on individual discoveries, leading to a new round of questions for the people who shift in and out of the inner circle of the real history of Sarah's birth.
Stories We Tell is a documentary, albeit a very experimental one. For all of the traditional tools used (interviews, reenactments, voice overs, etc.), the structure is pure thriller. We're dragged down the ever shifting sands of memory until Polley herself starts to lose track of the narrative. It evolves in such an organic (well, as organic as a thriller filled with misdirection and hidden secrets can be) way that the final moments are all the more revelatory. It doesn't even matter that the mystery is solved by the halfway point; the initial search for truth was never the real point of the documentary.
It is unsettling to watch this story unfold. Everyone is so sure of their position, so positive that they know exactly what happened, that you begin to doubt everything you've been told. Polley constantly sets you up for surprises and failures. The biggest trick is declaring that this film's real focus is on the identity of her father.