TooManyGames is a Pennsylvania-based video game convention and expo. This past weekend, they celebrated their 13th year of bringing together gamers (10th year as a convention) and I was fortunate enough to attend the last day.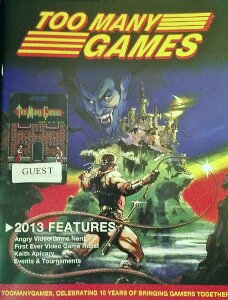 When I applied for the convention, I didn't realize that the schedule for the camp I teach theater at was set for back to back training weekends. I thought there was a gap in between. I was wrong.
That meant trying to fit as much of TooManyGames as I could into one day. It was a challenge that was so worth it. TooManyGames was so organized and laid out so well that I could literally go down the line in one section of the convention and meet with half of the indie game developers back to back. I could turn the corner and hit a stretch of used game dealers and dig through my childhood memories playing the NES and Genesis. There wasn't any wasted space in the design of the convention and that's a lot rarer than you might think.
I arrived shortly after the doors opened at 10AM and introduced myself. I e-mailed them earlier in the week to confirm I could still grab the press pass on Sunday and was told there wouldn't be a problem. Not only was there not a problem, as soon as I asked where to go for the pass, the person I e-mailed flagged me down and sent me on my way real quick.
Walking into TooManyGames was an overwhelming experience, as any good convention always is. There's so much to see right away that your eyes take a moment to adjust to the right path for you. I swung through the outer perimeter, checking out the various districts of the convention: a concert hall for chiptunes performances, a huge series of gaming stations with comfortable chairs for tournaments and casual play, plenty of tables for tabletop gaming and demos, long stretches of indie video and tabletop game developers, a large collection of retro and music arcade consoles set for free play, and a huge expanse of dealers and artists peddling their wares.
I wound up making a lot of loops around the show floor in the six hours I was there. At a convention like TooManyGames, there is absolutely no reason to wait on line for something. If someone is playing the Centipede machine you wanted to try out, step on over to Frogger and set the highscore (and then beat it twice throughout the day). If the demo for the soon to be Kickstarted throwback RPG is being played, swing by the developers with multiple iOS and Nintendo eShop titles to try out. There's so much to do that, even when the convention hit its peak traffic in the early afternoon, you could easily walk by and find a new activity to occupy your time.
It's hard to even keep track of what happened during the day. I'm so used to panel hopping as a substitute for interactive events or poorly planned convention floors that I really did lose track of time just hanging out with the vendors, developers, staff, and attendees at TooManyGames.
The whole event was just so fluid in the best way possible. You would actively have to set out to not have a good time as a gamer at this convention. At one point, I heard some really cool sounding chiptunes and followed the speakers to the concert hall. The music I thought was a recording was actually live DJs, chiptune performers, and bands performing for most of the day.
At another point, a table with three artists stopped me to compliment me on my shirt. We got to talking about all the different badge classifications at the convention because I was clearly press–laden with cameras, bags, and notebooks–but had a generic guest pass. One thing led to another and we exchanged information for some possible work revamping my web presence with new custom art.
Then there was the point where I wound up entering a video game contest just by walking past a booth at the right time. I'm an avid gamer but not a great one and throwback
Asteroids
-styled shooters are not my forte. Still, the opportunity came up and I had a good time. I narrowly avoided coming in last place and saw my best score of two rounds more than quintupled by the winner (who just won a tournament at the booth next door). To give myself a little credit, I did play better than I expected to. I just got caught up with some minor latency issues being worked on for the Apple OS version of the game still in development.
It always feels great to go to a convention like TooManyGames. There was no way to get lost. The staff were very helpful. There was a huge variety of content to satisfy any gaming fan. For me, it really was too much to try to fit into a day. I focused on the indie developers and had to forego tabletop gameplay, console gaming tournaments, and the panels on arcade and online gaming culture.
If you're in the greater Philadelphia area and you like games, you should definitely try to make it to TooManyGames in 2014.
Here's a gallery of the show. Keep checking back this week as I have posts coming up dedicated to the indie games hitting stores near you and some really cool vendors you'll want to support.