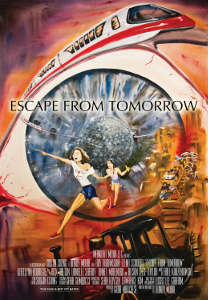 No discussion of Escape from Tomorrow can be divorced from the production of the film. Writer/director Randy Moore's surrealist horror story was shot on location (and without permission) in Disney World. The black and white low budget film is about the real world colliding with the all too polished magic of the Disney World and the tensions that arise from misplaced expectations of escapism. Moore scrambles the geography and style of the theme park into a vision of paranoid terror all without the Disney machine realizing a feature narrative film is being made.
There is an unexpected level of bravery to a guerrilla approach like this. If anything went wrong with production, if Moore and the cast were found out, there would be no film. A well-meaning tourist or Cast Member (as the Disney park employees are called) could have pulled the plug on the story. In fact, if you pay attention, you can see there are quite a few scenes where green screen is used to cover for scenes they couldn't shoot in the parks.
A knowledge of the Disney World parks is helpful in understanding everything that happens in the film. The first half takes place in the Magic Kingdom, which is geared toward younger guests. You have a couple thrill rides in Space Mountain and Big Thunder Mountain Railroad, but the rest is photo ops, meet and greets, and the super family friendly rides that don't get much more extreme than a carousel.